Understanding TPO Roofing
TPO (Thermoplastic Polyolefin) Roofing It is a single-ply roofing membrane composed of 3 layers (a TPO polymer base, a polyester-reinforced scrim, and a TPO compounded top ply). It is a synthetic roofing membrane made from a blend of thermoplastic polymers, usually a combination of polypropylene (PP) and ethylene-propylene rubber (EPR). The membrane is reinforced with polyester or fiberglass to enhance its strength and durability. The resulting material is resistant to ultraviolet (UV) radiation, ozone, and chemical exposure, making it suitable for various climates and environments.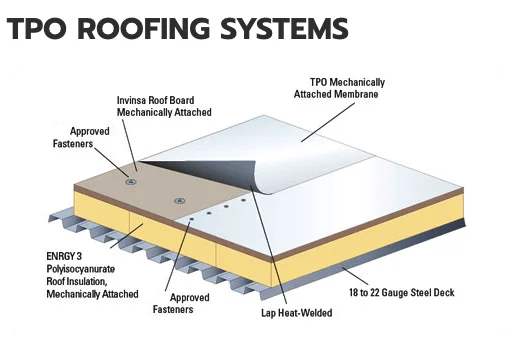 TPO (Thermoplastic Olefin) roofing is a popular choice for commercial and residential buildings due to its numerous benefits. Here are some advantages of TPO roofing:
TPO roofing membranes are known for their exceptional durability, capable of withstanding extreme weather conditions, including high winds, hail, and temperature fluctuations. The material's resistance to UV radiation prevents premature aging and degradation, resulting in a longer lifespan for the roof.
TPO roofing is recognized for its energy-saving properties. The material's reflective surface helps to deflect solar heat, reducing the amount of heat absorbed into the building. This reflective quality helps lower cooling costs, making TPO roofing an environmentally friendly choice that can contribute to energy efficiency and cost savings.
TPO roofing membranes are lightweight and flexible, making them easier to handle and install compared to other roofing materials. The material can be mechanically attached, adhered, or ballasted, allowing for installation flexibility depending on the specific needs and conditions of the project.
TPO roofing is generally considered a cost-effective option due to its competitive pricing and long-term durability. The material's energy-saving properties can also lead to reduced energy costs over time, providing additional savings.
TPO roofing requires minimal maintenance. The material is resistant to mold, algae, and dirt accumulation. Regular inspections and routine cleaning are typically sufficient to keep the roof in good condition.
TPO roofing has emerged as a popular choice for both commercial and residential applications, offering numerous advantages such as durability, energy efficiency, easy installation, and low maintenance. Its synthetic composition, combined with UV and chemical resistance, ensures long-lasting performance in various climatic conditions. Whether for new construction or retrofitting projects, TPO roofing provides a cost-effective and sustainable roofing solution that is becoming increasingly sought after in the industry.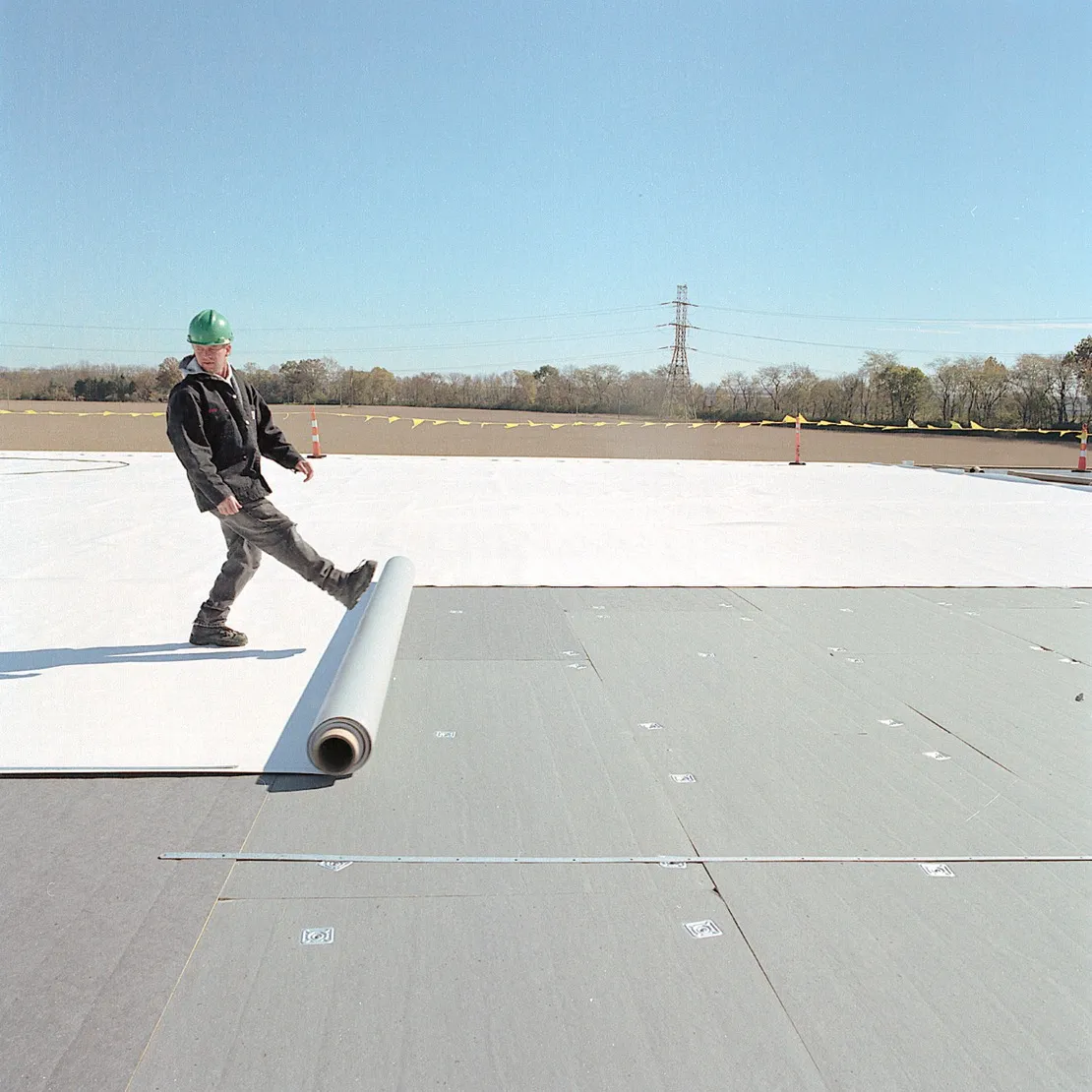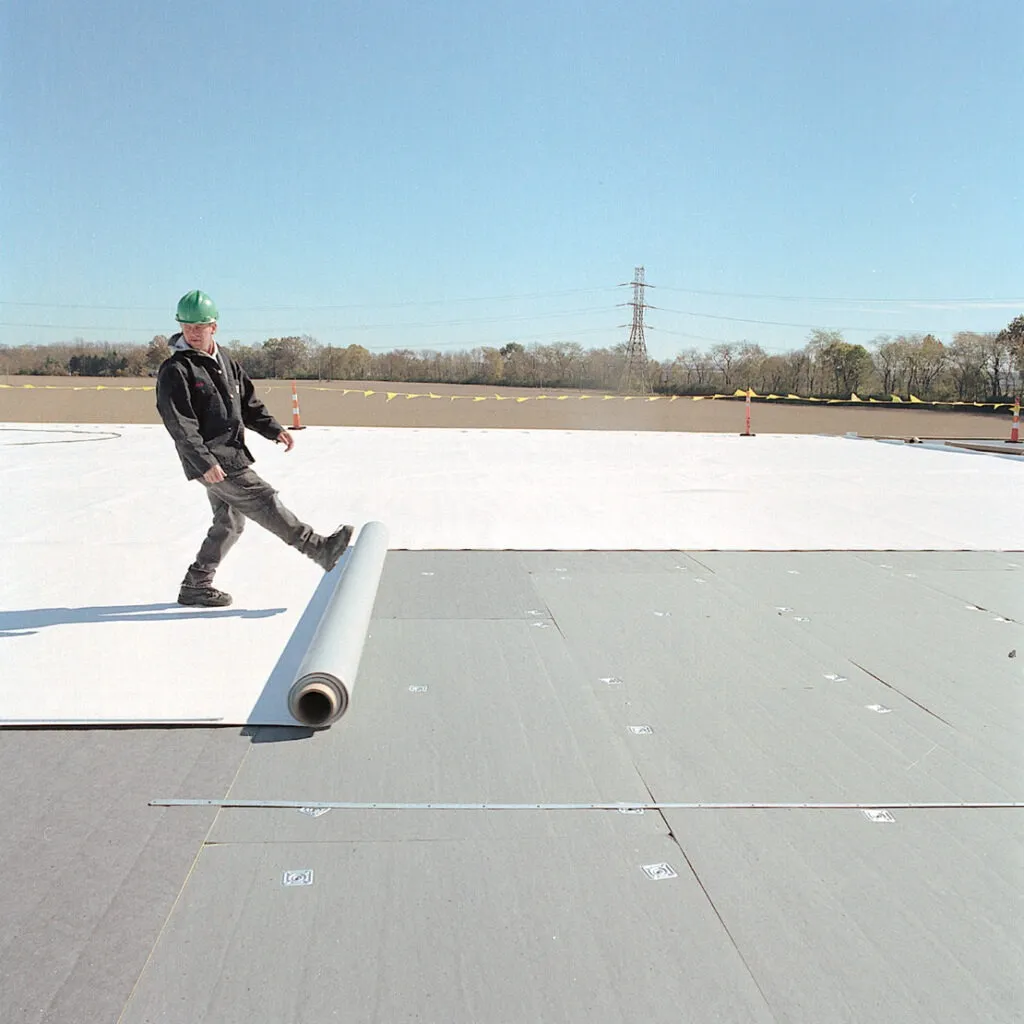 TPO roofing is highly suitable for the following applications and situations:
TPO roofing is primarily used in commercial and industrial applications but is also gaining popularity in residential settings. Its versatility and durability make it suitable for various roof designs, including flat roofs, low-slope roofs, and roofs with unusual configurations. TPO roofing is commonly used in the following sectors:
TPO roofing is commonly used in commercial buildings, such as office complexes, retail spaces, warehouses, and industrial facilities. Its durability, energy efficiency, and cost-effectiveness make it an ideal choice for large-scale roofing projects.
TPO roofing is particularly suitable for flat and low-slope roofs, where water drainage can be a challenge. The flexibility and heat-weldable seams of TPO membranes ensure a watertight seal, reducing the risk of leaks and water damage.
TPO roofing is highly reflective, especially in lighter colors like white. This helps to reflect sunlight and reduce heat absorption, making it an excellent option for warm climates. By reducing heat transfer into the building, TPO roofs can lower cooling costs and improve energy efficiency.
Sustainable and green building initiatives
TPO roofing is considered an environmentally friendly option. The materials used in TPO membranes are recyclable, reducing waste sent to landfills. Additionally, the energy-saving properties of TPO roofs contribute to sustainable building practices by reducing energy consumption and greenhouse gas emissions.
TPO roofing can be a suitable choice for retrofitting or re-roofing projects. It is lightweight in nature and flexible installation methods make it easier to install over existing roofs, minimizing the need for extensive structural modifications.
However, it's important to note that TPO roofing may not be suitable for all situations. Factors such as climate, building design, local building codes, and specific project requirements should be considered when determining the best roofing material for a particular application. Consulting with a professional roofing contractor can help assess these factors and determine the most appropriate roofing solution for your specific needs.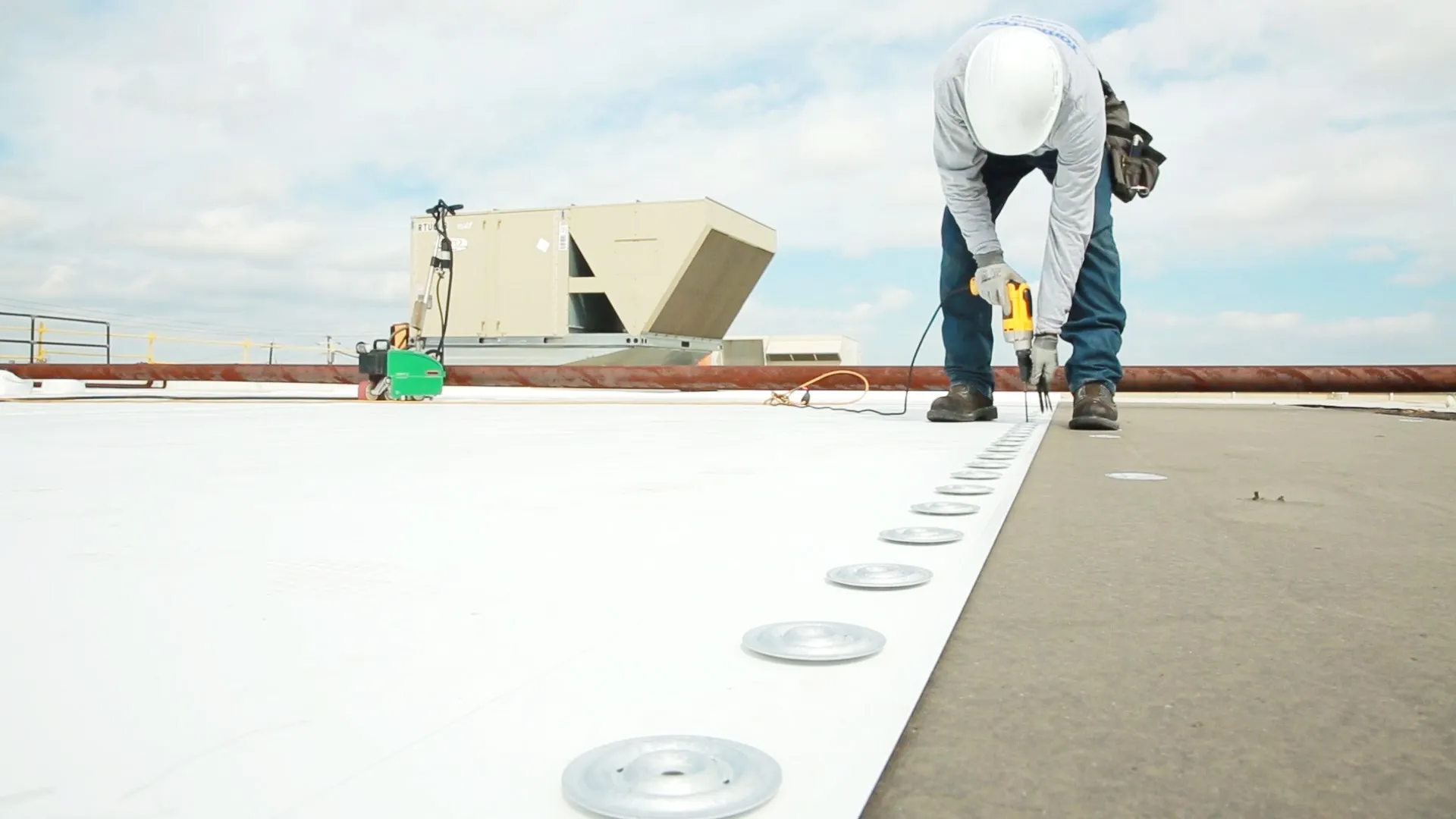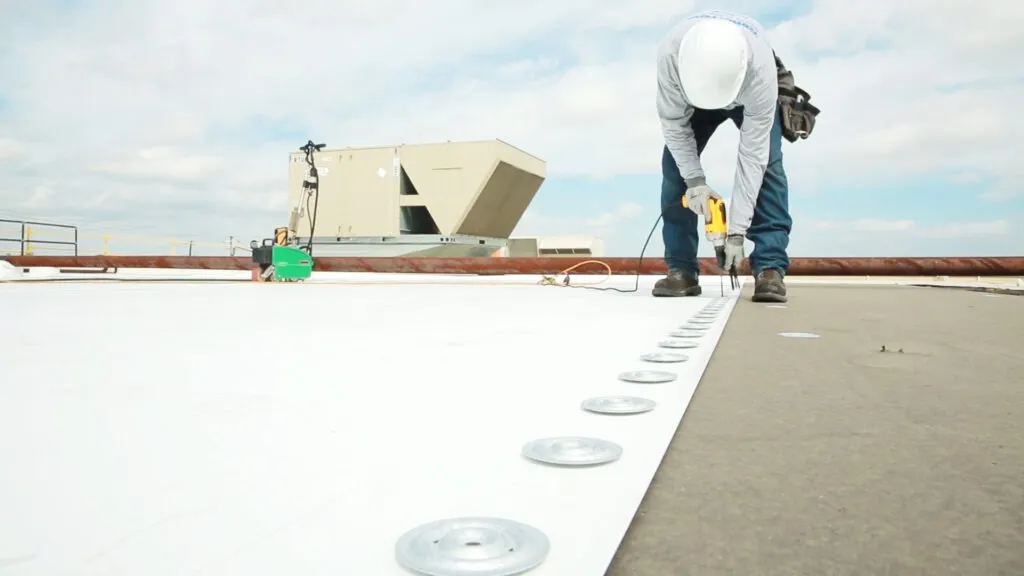 The cost of TPO (Thermoplastic Olefin) roofing can vary depending on various factors such as the size of the roof, the complexity of the installation, location, and market conditions. Here's a breakdown of the typical cost considerations for TPO roofing:
The cost of TPO roofing materials is typically calculated per square foot or per square (100 square feet). TPO membrane prices can range from $0.80 to $2.50 per square foot, depending on the thickness and quality of the membrane. Thicker membranes tend to be more expensive but offer increased durability.
The size and complexity of the roof play a significant role in the overall cost. A larger roof will require more materials and labor, which will increase the total cost. Additionally, factors such as the roof's slope, the number of penetrations (vents, skylights, etc.), and the presence of architectural details can affect the complexity of the installation and impact the cost.
The cost of labor for TPO roofing installation can vary depending on the region and the experience of the roofing contractor. Labor costs are typically estimated based on the size and complexity of the project. It is important to work with a reputable and experienced roofing contractor who understands the specific requirements of TPO roofing installation.
The cost of TPO roofing may also include additional components such as insulation boards, flashing materials, adhesives, fasteners, and accessories. These costs can vary depending on the specific requirements of the project.
TPO roofing systems often come with warranties provided by the manufacturer. The length and coverage of the warranty can vary, and it's essential to consider the warranty terms and any associated costs when evaluating the overall cost of the roofing system.

It's important to note that the costs mentioned above are general estimates and can vary significantly based on the factors mentioned earlier. It is recommended to obtain quotes from multiple roofing contractors and compare them to get a better understanding of the specific costs associated with your project. Additionally, engaging a professional roofing contractor will ensure accurate cost assessments and high-quality installation, leading to the long-term performance and durability of the TPO roofing system.
How Does TPO Roofing Save You Money?
TPO roofing offers multiple cost-saving benefits. Its high solar reflectivity reduces heat transfer into the building, lowering cooling costs and leading to substantial energy savings. TPO roofs are durable, and resistant to damage and mold, requiring minimal maintenance and reducing ongoing costs. TPO roofing is cost-effective to install, with straightforward installation methods and efficient coverage. With a long lifespan of 20 to 30 years, TPO roofs minimize the need for frequent replacements, providing significant long-term savings. Additionally, TPO roofing is environmentally friendly, as the materials are recyclable and the energy-saving properties contribute to sustainability.
Looking for a TPO Roofing System service?
Constitution Construction is proud to offer its customers the cutting-edge TPO Roofing System, a premier solution for commercial and industrial buildings. With a focus on quality and customer satisfaction, Constitution Construction delivers exceptional roofing services backed by years of industry experience. Our TPO Roofing System is renowned for its durability, energy efficiency, and cost-effectiveness. Engineered to withstand harsh weather conditions and reduce energy consumption, our TPO membranes reflect heat, lower cooling costs, and contribute to a more sustainable building. With expert installation and a commitment to customer care, Constitution Construction ensures that our TPO Roofing System provides reliable, long-lasting protection for your property. Trust Constitution Construction for all your TPO roofing needs and experience the difference in quality and performance.